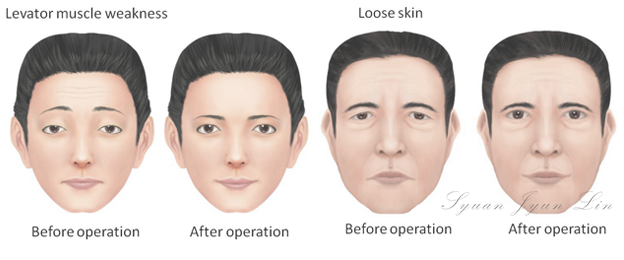 The causes of
droopy upper eyelid
There are two common causes of droopy eyelids:
1. Eye opening muscle weakness
2. Too much loose skinbr

Before the operation, careful evaluation is a must. If it is difficult to lift the eye muscles, it is necessary to undergo the eye muscle surgery because only shortening skin is not helpful.
For elder patients, sagging skin appears more frequently, and a good preoperative evaluation of the function of the levator muscle can avoid asymmetrical eyes or droopy eyelids after the simple excessiveskin shortening surgery; if the skin is removed more, the patient's eyes can't open wide or close tightly.
Self-testing
If the lower part of the upper eyelid covers the black eyeball,
the eyebrow is very high with a lot of forehead wrinkles, it is probably
the levator muscle problem; if the eyebrow position is similar to that when the eyes
close, it is probably the loose skin problem.
Should you have any questions, please consult a professional ophthalmologist
Ptosis
The mechanism of opening the upper eyelid mainly relies on two muscles: the levator muscle and the Muller muscle. When they contract, they pull the tarsus plate and open the upper eyelid.

Ptosis can be divided into dominant and recessive types:

・Dominant:
When a normal eye looks forward, the upper eyelid will cover about 1-2mm of the black part of the eyeball; if the black part of the eyeball is covered more than2mm, it is called ptosis.

・Recessive:
When we want to open ptotic eyes , what can we do? We can raise the eyebrows, so the eyes can open more widely.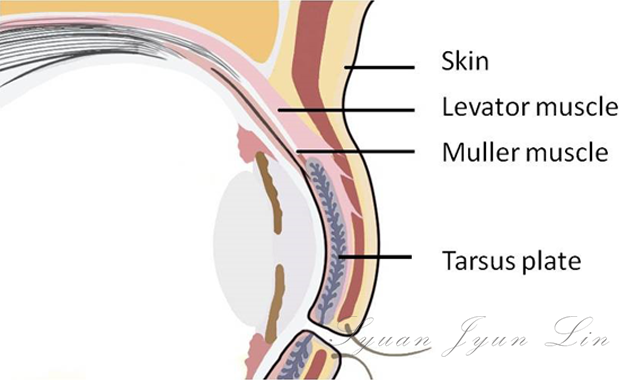 Raising the eyebrows will leave wrinkles on the forehead. In addition, when we try hard to open our eyes every day, the aponeurotic part of the levator muscle is stretched and elongated, and wrinkles will be formed on the upper lids with the eye sockets sunken. Sometimes the exposure range of the black eyeball is normal, but recessive patients would have the symptoms presented above.
Symptoms
In conclusion, the possible symptoms are as follows:
1.

Ptotic eyes

2.

Sunken eye sockets

3.

Eyelids with multiple wrinkles

4.

Raising eyebrows at all times


5.

Too many forehead wrinkles
These symptoms might be the complications of the eye opening muscle weakness. Even only the upper eyelid muscle is corrected in the surgery, the symptoms above can be improved at the same time.